Authentic German Potato Salad
Maryland Jim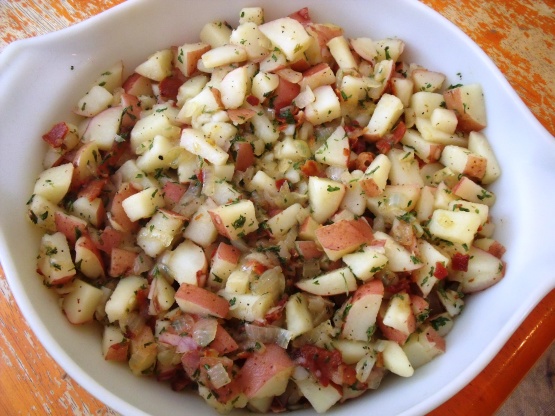 This is best served hot, but equally good cold! This is an authentic german recipe...everyone says it is the best! It is also great cooked ahead of time and then microwaved...it gives the flavors time to blend.

Let me start by saying, I don't cook. My wife laughed at me when I told her I was going to make german potato salad for my parents 50th wedding anniversary. I tripled this recipe to make a nice size pan, and the results were amazing. All I have to say is that a room full of old Germans ripped through the pan, talked about how great it was, wanted to know who made it and asked if I would make it at every get together. THANK YOU for this recipe!
Place the potatoes in a pot, with enough water to cover. Bring to a boil, and cook for about 10 minutes, or until easily pierced with a fork. Drain, set aside to cool.
Place the bacon in a large deep skillet over medium-high heat. Cook until browned and crisp. Remove and set aside.
Add onion to the bacon grease, and cook over medium heat until browned. Add the vinegar, water, sugar, salt and pepper to the pan. Bring to a boil, then add potatoes and parsley. Crumble half the bacon into the mix. Heat through, transfer to a serving dish. Crumble the remaining bacon over the top and serve warm.