Australian Stuffed Cucumbers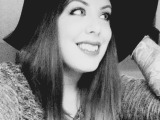 This recipe comes from The Australian Heritage Cookbook, and is perfect for an appetizer or over a salad. Submitted for ZWT8.
Directions
Skin the cucumbers, cut in half lengthwise; scoop out the seeds. Sprinkle with salt and leave to drain.
Beat the cream cheese, pecans, hot sauce and salt together.
Dry the cucumbers and spoon the cheese mixture into the center of each half. Sprinkle with chopped parsley and refrigerate.
When firm cut into slices to serve.
Reviews
Most Helpful
easy little appetizer, I didn't have hot sauce so I used crushed red pepper flakes. I think next time I'll add a tsp of Good Season's Italian dressing mix. Made for ZWT8 trip to Australia / New Zealand. Thanks Alaina!

I loved the idea of these, but thought the end result needed more "oomph". They were a terrific use of garden cucumbers, easy to make, & who doesn't like cream cheese? We liked the pecans & hot sauce, but thought they'd be better with additional seasoning. Maybe ranch mix? I'll enjoy experimenting so thank you for the idea!

I had to take a "finger food" dish into work so I happened to have all the ingredients. I don't eat "raw" cucumbers so I let my co-workers assess the rating. This gets a 4, first for how easy it is to make. The main comment I got back was that it needs more spice....one suggestion was maybe adding some horseradish or more hot sauce. Made for ZWT8 and The Wild Bunch.