Australian Crab and Asparagus Soup
twissis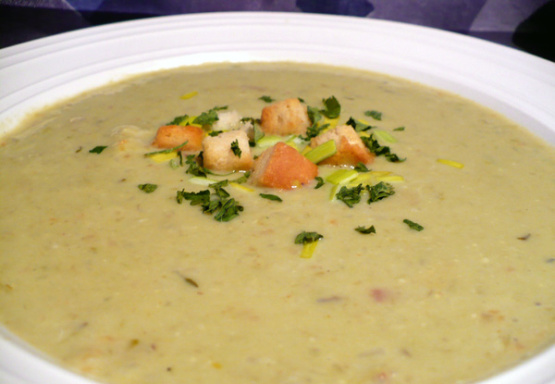 From Low Fat One Dish Recipes From Around The World.

I made this lovely soup as a starter course for our part of a dinner party last nite. I did chg the final presentation, used canned asparagus & made 1 addition out of need. I added the asparagus earlier than stated, pureed the soup after Step 5 & then added cooked rice + 1 cup Icelandic baby shrimp (only because 2 guests were added for dinner at the last min). It was a *huge hit* ~ everyone had at least 2 cup-size servings & 1 of the added guests even had a 3rd! We loved this! Thx for sharing the recipe w/us & our friends who loved it as well. :-)
In a large saucepan over medium heat, warm the oil. Saute the onion, celery, carrot, garlic and shallots, stirring occasionally, till vegetables are soft (about 5 minutes).
Sprinkle with flour and stir quickly to combine.
Add the milk, stirring constantly, and cook till sauce is smooth.
Add the water, sherry, rice, worcestershire, bay leaf, thyme, salt, pepper and lemon zest.
Bring to a boil, then reduce the heat to low and simmer for about 30 minutes.
Stir in the crab and asparagus.
Cover the pan and cook, stirring occasionally, till the soup is thickened and the asparagus is cooked.
Discard bay leaf and serve.