Austin's Texas Taco Salad
lazyme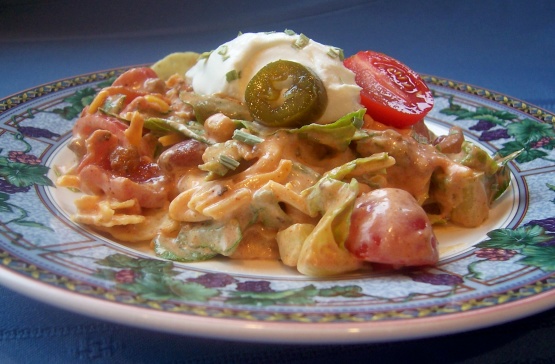 Austin's is a great local restaurant here in Reno and Lake Tahoe. I have not made this salad, but have eaten it there many times and it is wonderful. The recipe comes from Austin's in a cookbook called "In Good Taste". A great way to use up your left over chili.

Top Review by lazyme
This is so good! I used leftover chili and this went together in about 10 minutes. The combination of the salad ingredients and the chili was excellent. Now I don't have to order Taco Salads anymore, I can make them at home. Thanks HeidiSue for a keeper that I'll repeat often.
Place mixed greens in a large salad bowl.
Add warmed chili meat, sliced olives, tortilla chips, tomatoes and shredded cheddar cheese.
Add a dollop of sour cream and chives on top.
To serve, add ranch dressing and mix thoroughly.
Divide among 4 salad plates.
Place additional dollop of sour cream and chives on each plate and serve.
YUMMY!