Austin's Hyde Park Bar & Grill Mac and Cheese
Cook4_6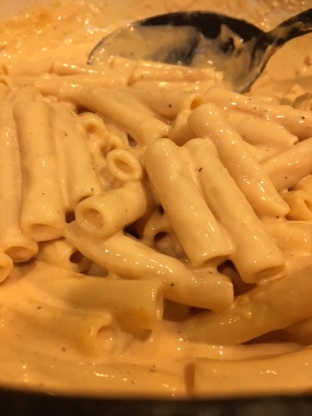 Look for the giant fork outside of this popular Austin, Texas restaurant. The food is reliably great. I could choose a meal of the french fries and the mac and cheese, personally.

This has excellent flavor, but it was really, really hard to wait for it to cool long enough to thicken to a desirable consistency. We attempted to eat our salad first, but even after letting it cool on the counter for fifteen minutes, popping it in the oven to let the top cheese melt, and then plating it to allow it to cool in a smaller consistency, we still felt like we were eating mac & cheese soup. I must say, patience is a virtue, because as I was putting the rest in the refrigerator an hour later - it was a perfect consistency. This would be great for a buffet, where it will hold up over a longer period of time for sure and for people with a LOT of patience.
1 1⁄2 cups heavy cream

5

cups whole milk
1⁄2 lb cheese, Kraft Deluxe Slices (yellow)
1⁄2 lb cheese, Kraft Deluxe Slices (white)
1⁄4 lb cheese, smoked gouda, shredded
1⁄2 cup vegetable stock

1

lb macaroni, cooked al dente
shredded cheddar cheese, for topping
Heat cream and milk in a double boiler.
Add remaining ingredients, except macaroni.
Heat until cheese is fully melted.
Salt to taste.
Fold mixture into macaroni and chill in shallow dishes (or a baking dish). Mixture might seem thin, but it will thicken as it cools.
Serving instructions: Preheat oven to 350 degrees. Heat desired amount of mac and cheese in microwave. Top with shredded Cheddar cheese.Heat in ove until cheese on top is melted.