Bergy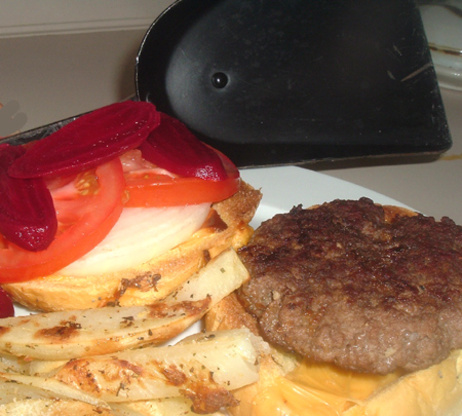 I found this while searching for recipes for my daughter who was missing Oz.

Top Review by Bergy
This is a delicious burger but I cheated I pan fried it. I would love to make this on a shovel - I love the whole concept. I used Panko crumbs and loved the fried onion flakes in the burger. Garnished with sweet onion, tomato and YES Beets. They sound weird on a burger but they are really tasty. Of course I had cheese too Thanks Alskann for another burger that pops into my favorite burgers
1

lb finely chopped beef
1⁄2 cup flour
1⁄2 cup damper breadcrumbs, soaked

1

egg
sprinkling dried onion flakes
lard (fat)
bread roll
Place a shovel (or grill plate) over hot coals (or heat frying pan).
Mix all ingredients and form into hamburger patties.
Heat lard on shovel and fry the burgers til cooked.
Warm buns over coals and spread butter lightly on both.
Add burger patty, lettuce, cheese, tomato and beetroot and enjoy!
Tip: You can add fried onion and tomato or bbq sauce, or anything else you like on your burgers.