Aussie Rissoles (Cross Between a Patty and a Meatball!)
Jubes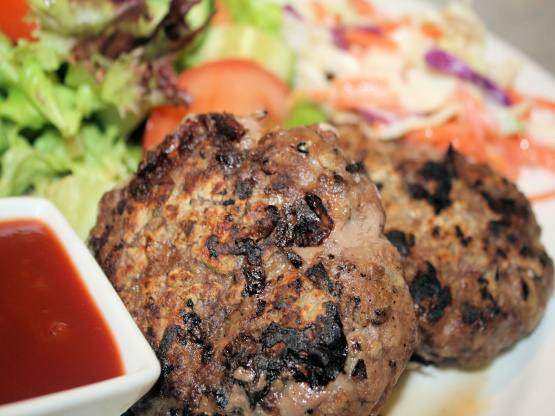 Rissoles are an economical everyday dish. When dining informally with a large group of people, you'll often find Rissoles on the menu, especially if it's a barbeque! You can triple the recipe and freeze the extra cooked Rissoles for future meals or freeze them raw and cook them later. You can serve them with ketchup or gravy as a main dish or eaten cold as a snack. I found this recipe on an Australian website. Enjoy!

These are easy and very tasty, and perfect picky kid food. If they like meatloaf, call them meatloaf balls. If they like meatballs, call 'em that. You can even get away with calling them burgers LOL! I served these with mashed potatoes and salad, and per family's preference tomato sauce. I would personally love to try them again with gravy and noodles. I did use the optional zucchini since we have it coming out our ears, and it went largely undetected. Thanks for posting! Made for ZWT 8: The Wild Bunch.
Blend all ingredients well (except flour).
Shape into balls and flatten slightly. Make your rissoles 2 1/2" in diameter for a main dish, smaller if serving with pasta or as an appetizer.
Put flour into a resealable bag and then add 2 rissoles at a time. Shake gently until they are coated. Brush off excess flour before cooking.
In a small amount of oil, cook on a hot plate on the barbie or indoors fry for about 20 minutes, turning and browning on all sides.
Variation:.
Finely grate 1 carrot and 1 zucchini plus 1/2 finely grated red or green pepper. Cook until tender in 2 teaspoons of oil over medium heat. Let cool and then add into step 1.