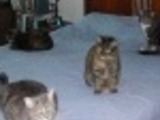 Updated after so-so reviews:D Posted for Zaar World Tour 2005. From an Australian recipe website. Prep time does not include cook time for rice. Although I've stipulated imitation bacon bits, you are welcome to use real bacon if you'd prefer. Update: I finally tweaked this to a satisfactory end, so if you'd still like to try this I recommend it. I reduced the soy sauce and allspice, and upped the mayonnaise a bit. I really don't like salads too big on mayonnaise, but I still thought this could do with a bit more. I also agreed that the allspice and onions were tasty together, and the vegetables added a pleasing sweetness. I think water chestnuts instead of the bacon bits would be nice too. Thanks if you try this again!
Directions
Combine rice, vegetables and bacon bits.
Mix soy sauce, mayonnaise, allspice and cilantro.
Stir sauce into rice mixture and serve.
Reviews
Most Helpful
This was delicious. I used what I had on hand.I was out of bacon bits and cilantro. I also added some diced yellow bellpeppers as well as some red. I was afraid the alspice would over power, so I only added 1/4 teaspoon because I only had 2 cups of rice, so I think that evened it out. My husband and the kids liked this dish. I DID serve it warm instead of cold(I assumed that was how it was supposed to be served) Anyway, it was delicious and I'll be making it again.
This made a great accompaniment to a grilled steak. I was a coward and used only a half teaspoon of allspice but the flavor was so mild it probably would have been fine with the full teaspoon. My "small" red onion must have been too big, because I only used half of it and that was more than enough. This is a really pretty side dish... so colorful, even without the peas (I forgot to add them). I made the mistake of cooking 3 cups of raw rice (it makes a LOT of rice!) but luckily I figured out my mistake before I mixed everything up. All in all, DH and I really enjoyed this.

As a Aussie, I am impressed with this recipe,but I left out the bacon bits,and added a small can of water chesnuts chopped.