Aussie Lamb Sandwich / Souvlaki
Sara 76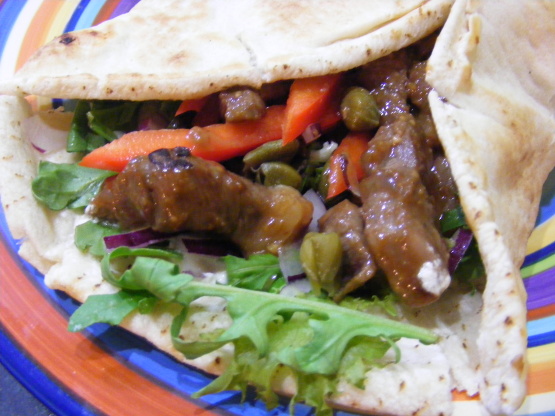 Not a bad quick meal and feel free to substitute tomatoes for capsicum, and pretty much any other salad veggies you want. Maybe a few olives instead of the capers and the list goes on.

YUMMY!!!!!!!! As a regular souvlaki eater I was a bit skeptical but WOW I could eat these as a replacement. Hubby liked the change up. He had his with capers, I did not. I did use a mix of lamb and sirloin as that is what I had available, sliced thin and mixed together on each sandwich. I also added chopped tomatoes as opposed to sliced. This is an easy and quick recipe and I can see making this for a group of people for a lunch or dinner on the hot muggy evenings of summer at a souvlaki bar so to speak. Thanks Peter, will make this again and soon. Made for AUS/NZ Aug Swap.
Place lamb strips, teriyaki sauce, garlic, Tabasco sauce, oil and pepper in a small bowl. Mix well and marinate 30 minutes or so.
Cook lamb on hot BBQ plate turning occasionally until cooked as desired (about 5 minutes will do the trick).
Place Lebanese bread on a plate and top with mesclun mix and capers.
Put sour cream over top in three dollops and place capsicum strips to the side, followed by the cooked lamb strips over the middle.
Roll up starting by folding in at the top and bottom a little followed by tightly rolling at the sides.
Place under a sandwich press for 5 minutes or so to make the bread crispy. This is optional but tastes a lot better.
Enjoy with an ice cold beer in the other hand!