Aussie Damper - Sweet or Savoury- You Decide
Annacia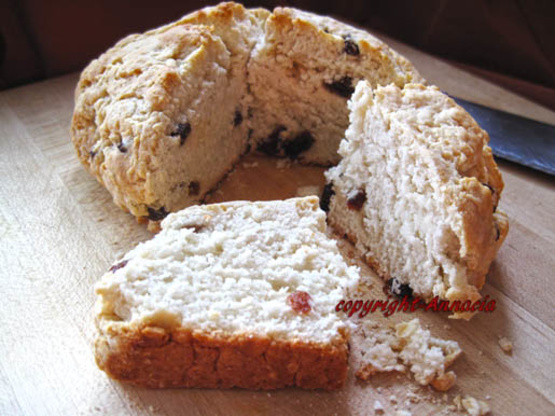 A really easy damper recipe- I remember making these when I was still at school. To make a savoury damper, you can really add any herbs of choice, such as chopped parsley, chives, cracked black pepper. Damper is usually served with lashings of butter or for a sweet damper with butter, honey, golden syrup or strawberry jam

Delicious quick-to-make and hearty bread! I made the savory version, with lowfat cheddar cheese, and I added dill which was a great combination. Very tasty warm out of the oven but good cold the next day too - thanks for sharing the recipe! Made for ZWT8, Chefs gone WILD!
Preheat oven to 180-190°F.
Using a large mixing bowl, stir together the flour and the salt.
Add the butter and rub it in with your fingertips.
Add the milk and stir it in with a rounded blad knife/butterknife. The dough should be fairly soft, but not too sticky.
Tourn out onto a lightly floured board and shape into a soft smooth ball.
Place the damper ball onto a baking sheet and flatten gently. Cut a cross into the top of the damper and brush with a little milk.
Bake for 30 minutes or until golden.
Variations- for the cheese damper add 100 grams of cheese before adding the milk. Add any extra herbs of choice. Sprinkle with a little extra cheese before baking.
For the sweet damper- add the sweet ingredients with the milk.