Slim PA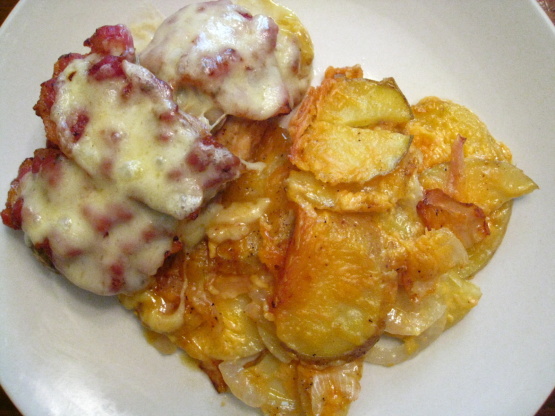 Found this recipe on the internet and wanted to post it for the ZWT5 I read that this is a popular chicken dish in Australia. Update 23/05/09 A few reviewers have stated that the amount of Seasoning Salt was overpowering in this dish. Original recipe calls for 2 teaspoons, I am cutting it down to 1 1/2 teaspoon. If the next person that makes the recipe, please let me know if this is still too overpowering. Thank You.

Made this for our dinner and I did cut the recipe in half for DH and I and also I didn't use the seasoning salt (per other reviews) and just salt, pepper and a little herb seasoning. Loved this dish with the mushrooms and the bacon, oh yes! Will be making this again in the future. Thank you for posting. Made for Spring PAC 2014.
Rub the chicken breasts with the seasoning salt, cover and refrigerate for 30 minutes.
Preheat oven to 350 degrees F (175 degrees C). Place bacon in a large, deep skillet. Cook over medium high heat until crisp. Set aside.
In a medium bowl, combine the mustard, honey, corn syrup, mayonnaise and dried onion flakes. Remove half of sauce, cover and refrigerate to serve later.
Heat oil in a large skillet over medium heat. Place the breasts in the skillet and saute for 3 to 5 minutes per side, or until browned. Remove from skillet and place the breasts into a 9x13 inch baking dish. Apply the honey mustard sauce to each breast, then layer each breast with mushrooms and bacon. Sprinkle top with shredded cheese.
Bake in preheated oven for 15 minutes, or until cheese is melted and chicken juices run clear. Garnish with parsley and serve with the reserved honey mustard sauce.