PaulaG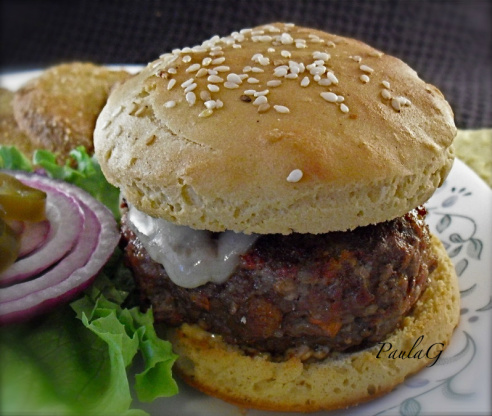 An Australian beef burger that puts all the flavour in the burger and can be served with plain sides like bread and a little sauce. This is quite a mild tasting burger, if serving for people who enjoy hot foods add chili sauce and/or chopped chili.

I chose this as one of my recipes for the recipe swap #2, and I have to agree that these ingredients do put all the flavor in the burger. My husband is a big burger fan so I made this just for the 2 of us. We really enjoyed these. The only changes I made was to add 2 TBLS. worcestershire sauce. I have no desire to stand at the barbecue in snowy weather so I broiled these and added 1 tsp. liquid smoke to make up for not barbecuing.I will definetly be making these again. Thanks for sharing this Peter.
Mix all ingredients very well in a bowl and place in refrigerator for an hour or so (optional).
Form into burgers the size and shape of your liking, keeping them rounder but fairly flat helps them cook throughout.
Cook on a BBQ or grill around 7 minutes per side or until done to your preference. The carrot and onion make this a little crumblier than some burgers so turn carefully.