Auntie Ann's Lip Smackin' Homemade French Dressing - Longmeadow
Boomette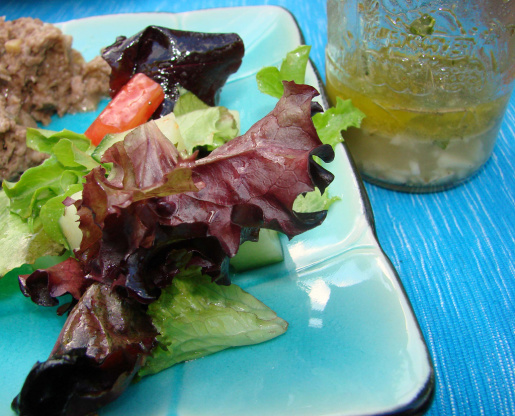 Auntie Ann spent many years working as the Research Editor of the National Geographic in Washington D.C. She also had a beautiful house facing the water in St. Michaels, Maryland. Quite often she had gatherings of all sorts. From the Washington set, dressed up dignitaries and special guests would arrive for a nice Friday evening cocktail party that included a nice dinner afterward. During her weekends in St. Michaels, she could relax sitting comfortably on a wicker chair facing the Harris Creek watching the swans swim to and fro in the water. Even though Auntie Ann had a busy productive life as an editor and another busy life on the shore, her cooking skills were perfection. Often during a cocktail party she would mix up (the day prior) a good amount of this dressing and ever so lightly, and daintily spoon this over some fresh salad greens and toss. When she was getting ready to have the Labor Day crowd in for some good old "Maryland Blue Crabs" at her home on the shore, she would use this dressing in a simple pasta salad, that could be kept outside longer as it didn't have any mayonnaise or dairy in it to spoil. I use this now for "Saturday Lunch on the Farm" salad, which has become a huge bowl of all kinds of lettuces, fresh cut up vegetables and olives. Hey you can't go wrong with Auntie Ann can you? After all; life is good when partaking of a salad, isn't it? Can be easily halved.

This was ok. I tend to use less salt so that might be the problem. Also mine seemed to need more herbs and less garlic.
Using a Mason jar, cruet, bowl, or blender put vinegar, salt, ground pepper, cloves, oregano,parsley, basil, rosemary, ground mustard and sugar or honey if using, in container.
Mix thoroughly together. (I use a blender).
Slowly mix oil in with the vinegar, herb mixture. This is where I use the blender as it makes the dressing a bit thicker.
Sometimes though, if I am in a big hurry, I just use a Mason jar, and mix the oil in a little at a time and then shake vigorously.
Serve as your "everyday" dressing.
I leave this out on my counter for about two days (gets even more intense), or you can put it right into the refrigerator. Ours just doesn't last that long.