Auntie Andi's Egg Salad for Little's Little #1 Longmeadow
AZPARZYCH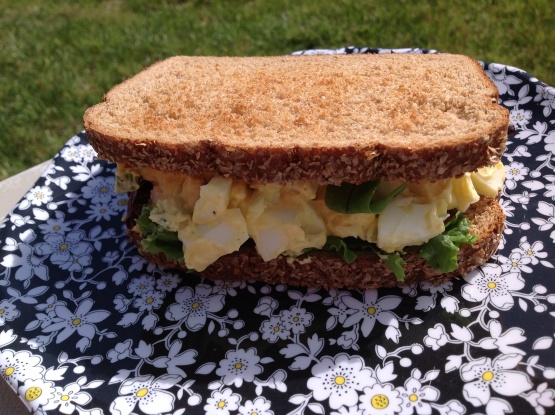 Bubba has chickens and he sells his eggs to the local neighbors. There are times when a couple of his hens lay a good amount of "green-tinted" eggs that some don't care for. I guess they don't like brown eggs either, but it is wonderful for us on Longmeadow Farm.Starting early Spring, and through the summer, we make a lot of egg salad. We have eggs everywhere! This is the simple, but lovely egg salad I serve on Saturday Lunch at the Farm. The toast brings a heavenly smell all around the kitchen and the fresh basil or chives bring such color to this simple salad. On the farm we pretty much prefer the no extra use of mayonnaise, but add a bit of salt to taste and some bean sprouts and a couple of UTZ potato chips and we are set to go. This all gets washed down with a simple ice tea that has some fresh peppermint just picked from the garden and life is good once again *NOTE* the title changed as my new name adopted by littlemafia's dear daughter wanted to have some of: "Auntie Andi Egg Salad" - so the whole name stuck.
This is a good, not too loaded down, egg salad. I liked the crunch of the celery and bite of the chives. I made with 4 eggs and added approx. 2 tsp mayo. I also used seasoned salt and fresh cracked pepper. Served this on toasted wheat with a handful of spring mix. Made for Spring PAC 2013.
2

large hard-boiled eggs

1

teaspoon mayonnaise (I use full flavored Hellman's)
salt and pepper (I use a pretty good hit of salt, but you add what you want)
1⁄8 teaspoon fresh lemon juice (very small amount, a squeeze really)

1

stalk celery, chopped (small celery-chopped in small squares)
1⁄8 teaspoon fresh chives, chopped

Optional Toppings

1

bunch bean sprouts (or mung beans)

4

slices whole wheat bread, toasted medium

2 -3

lettuce leaves, per sandwich
Hard boil the egg; placing the eggs in a pot and cover with cold water by a 1/2-inch. Bring water to a very gentle boil. Turn off the heat, cover, and let sit for exactly (in pot) 12 minutes. After the time has passed place cooked eggs in a bowl of ice water ready until ready for use.
Crack egg and peel shell off. In a medium mixing bowl, place eggs in bowl and smash with a fork. You want chunks of both yellow and white. Do not over mash.
Add mayonnaise starting with 1 teaspoon. If you want more, go ahead and add, although I am a less mayonnaise type of gal.
Use the mayonnaise just enough to get the eggs to stay together.
Add salt and pepper as you prefer. I prefer to add salt, (1/8 teaspoon coarse salt to taste). I prefer lots of pepper too however; you chose what you like best. I start with 1/8 teaspoon and go up from there.
Gently add celery and basil or chives if using.
Toast bread until medium dark. I place one or two lettuce leaves on toast (dry) then top with egg and bean sprouts. I don't use mayonnaise or anything on either side of toast, again your preference here. I really like the egg salad to shine through and not be overtaken by more mayonnaise or butter.
Top with lid, mash down a bit, and take a deep bite. Oh yum!