Aunt Romadene's Beef Brisket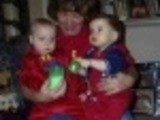 Very, very easy to make and turns out wonderfully tasty. Aunt Romadene gave me this recipe about 30 years ago after I had it at her house and loved it!!
Directions
Mix the last four ingredients and pour over the brisket in a baking pan.
Cover with foil and bake at 300 degrees F for 3-4 hours.
Most Helpful
This was the best brisket I've ever eaten. I was very surprised at the amount of worchestershire sauce in the recipe, but I followed it just as stated, and it was fantastic!!
This couldn't be easier...when you need a quick, flavorful meal but don't have time to "watch the pot", try this one! The sauce is not too sweet, and the meat is falling-apart tender (although I did bake about 5 hrs.) Serve the sauce on the side for those "purists" who think brisket should not be covered in sauce (DH).