3 Reviews
I have been searching for a recipe like this for a while. They were wonderful, and very easy to make. My husband is actually asking me to make them - a vegetable!!! I followed the recipe just as you have it. I like the spice!
Excellent! Great country style flavors. I made the recipe using 1 1/2 pounds of frozen whole green beans. I didn't have flavored broth so I added 2 sliced garlic cloves and use half the red pepper. I forgot to add the water which turned out to be a good thing. After simmering the beans covered for 40 minutes, I removed the cover and cooked down the liquid until almost gone (another 10-15 minutes). By this time the beans were falling apart. I can't imagine cooking even fresh green beans for 2 1/2 hours without them turning to mush. Thanks Elizabeth - we love this recipe!

Talk about a cut above! Get away from boring vegies. This was the perfect side dish to Amish Baked Chicken! We loved it! I cut the recipe in half, used frozen french cut green beans, hormels real bacon bits, and added only 1/8th tsp red pepper. That was plenty spicey enough for us. Highly recommend this recipe.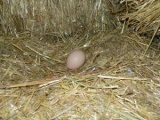 Aunt Martha's Country Green Beans