momaphet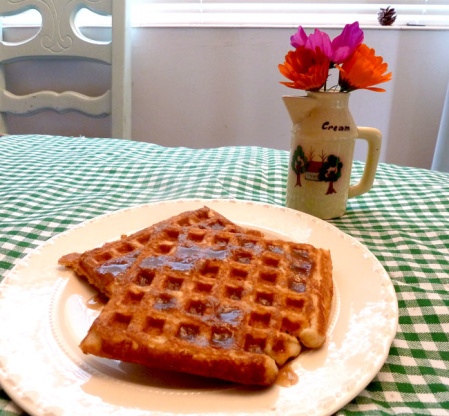 My Aunt Florence made the most wonderful waffles! Here is her 'secret' recipe, complete with her notes as follows: "These are the ingredients for one egg, and this amount makes two large square waffles. If you make more batter, and have any left over, you can make up the waffles, bake lightly, and wrap individual portions in waxed paper and put in freezer for future use. When needed, use toaster to heat, quite good." We ate these hot, with butter and warm maple syrup. They would be equally good dusted with powdered sugar and served with fresh strawberries and a cup of hot coffee or tea. I hope you enjoy!
This are lovely and light and get nice and crisp. They have a good basic flavor which I jazzed up a bit, and that put them over the top for us. This will now become my default waffle recipe.

I added orange zest and some juice and vanilla extract to the batter the first time I made them also about 1 1/2 TBLS of sugar which they really need, they still aren't what you would consider sweet. The first batch I used soured milk and the second buttermilk poweder. The 2nd batch I used rasberry ,vanilla and almond extracts. Not too much of any of them. the Rasberry was a nice compliment to the lingonberry jam I put on mine. I highly recomment the orange juice and zest it really complimented the cornmeal and got big compliments from everyone. Thanks for sharing made for Photo Tag Country cooking theme.
Put egg-white in small mixer-bowl for beating; put yolk in measuring cup, beat lightly; add oil and milk and blend.
All the dry ingredients go into a large bowl; stir to mix; add liquid mixture and beat until smooth.
Beat egg-white until stiff, fold lightly into batter; bake on medium-hot griddle.