Aunt Dianna's Blender Whole Grain Pancakes
loof751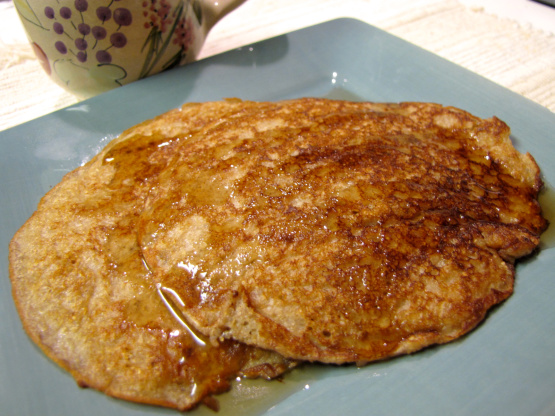 I love whole garin recipes that don't require a using a wheat grinder. This one is so easy to make, just using your blender.

Wow - these were terrific pancakes! Just loved the nutty flavor and texture of the whole wheat and the cinnamon/honey was a perfect sweetner. The great thing about these pancakes was they had a hearty taste but were not heavy and dense at all. Loved these - thanks for sharing your recipe! Made for Fall Pick-A-Chef 2011
Put milk and wheat kernels in blender.
Blend on highest speed for 4 or 5 minutes or until batter is smooth.
Add eggs, oil, baking powder, salt and honey or sugar to above batter.
Blend on low.
Pour out batter into pancakes from the actual blender jar (only one thing to wash!) onto a hot greased or Pam prepared griddle or large frying pan.
Cook -- flipping pancakes when bubbles pop and create holes.
Serve with homemade jam or Honey Syrup.
FOOD STORAGE SUBSTITUTIONS - choose one or more of these to try.
1 cup Milk = 3 T. powdered milk and 1°C Water.
2 eggs = 2 T. powdered eggs 1/4°C Water.
1 cup wheat Berries = Use 1 cup of any whole grains (wheat, oat, rye, quinoa, etc.).
NOTE: Rumford Baking Powder is Aluminum Free.