Aunt Debbie's Cherry Dessert
HisPixie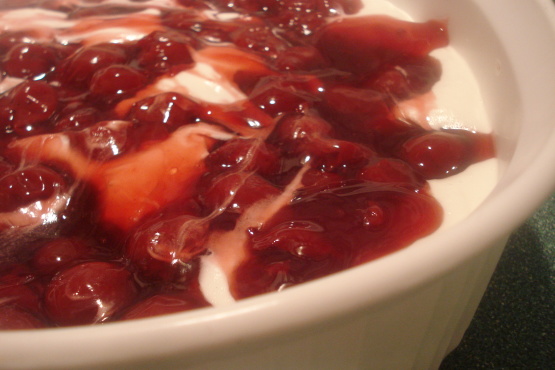 My mom got this recipe from Aunt Debbie. As a kid I use to think this was almost like heaven. It tastes a bit like cheese cake, but fluffier. The last time I made it for a BUNKO night, the ladies gobbled it up.

I've made this a few times and LOVE it! what a great low carb way to get your cheesecake. I used cherry pie filling and another time Recipe #152992. When I made the berry sauce it was still quite warm so I refrg. the creamy filling and topped later with the berry sauce. Thanks so much for posting, Color Guard Mom! Roxygirl
Soften gelatin in cold water. Heat milk, stir in gelatin. Beat until gelatin melts, set aside.
Beat cream cheese with powdered sugar until smooth. Add gelatin mixture. Beat until well blended.
Prepare dream whip as directed. Mix well. Fold into cream cheese mixture. Place in serving bowl. Top with canned cherry pie filling. Refrigerate until completely chilled (at least 2 hours).