PCrocker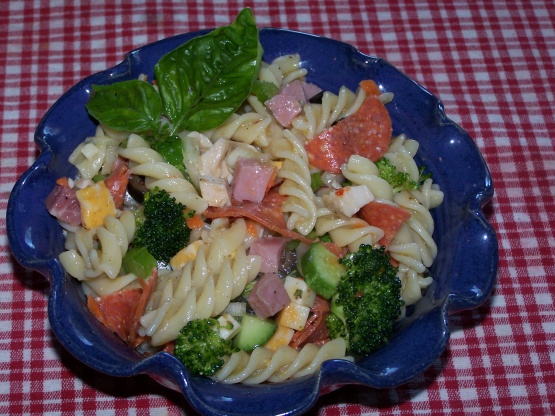 This salad is so easy and you can use it as a side dish or as a meal in it self. Everyone always wants me to make it for cookouts or they want the recipe.You can add just about any vegetables to this. This will be one of your families favorite.

Perfect summertime food...My wife loves it so much she keeps asking me to make it over and over again...Keep in mind this recipe makes a lot of salad...2 large bowls...so keep this in mind when you are making it...I did tweek the recipe a bit. I omitted the celery and onion, reduced 1/2 pound of cheese and used extra virgin olive oil instead of the vegetable oil needed for the italian seasoning packets...fantastic...this is a very forgiving recipe and you can add or subtract ingredients and it will still be a hit.....thank you for the recipe...
Cook pasta according to directions, drain and cool.
Add all other ingredients, making sure that it is all diced small, except dressing.
Mix Italian dressing according to directions.
Pour over entire salad, mix well.
Serve chilled.