Aunt Baby's Iceberg Health Salad With Roasted Butternut
Zurie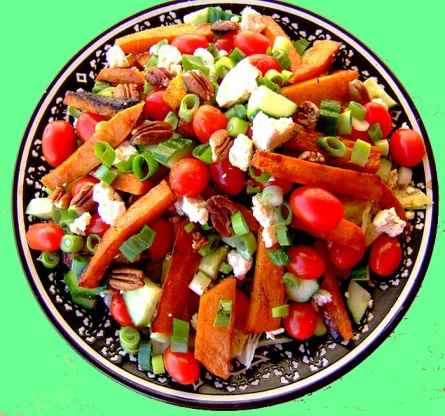 This mound of goodness can be a healthy starter, a lunch, or a side salad. It's chock full of nutrients. Make the roasted butternut ahead of time and keep covered -- it really takes very little effort! Tonight we are having this as a starter, because we're having plainly fried, fresh fish fillets, which we will eat simply, with a Continental-type bread. The amounts given for the salad can be varied according to availability and taste. I hope some of you do get pre-cut pillow packs of butternut batons ... Certainly easier than peeling this veggie! Have a nice French vinaigrette on hand: I have no qualms in buying the packets cotaining the granular Italian, French or Greek salad mix to mix my own salad dressing. Never ever use spirit vinegar, which is extremely harsh -- use wine or cider vinegar for your salad dressings. "Cooking time" indicates time needed to roast the butternut fingers.
Roast the butternut fingers: Set oven at 350 deg F/180 deg Celsius.
Mix the olive oil, sugar, vinegar, mustard and salt with a whisk, until it emulsifies, in other words, it forms a thickened mixture. It's best to whisk until at least some of the sugar melts.
Use a nonstick oven tin, or spray with nonstick spray.
Place butternut fingers in one layer on tin, then with a small spoon dribble the mixture over them and shake, or lift over and over with a spatula so all these fries are covered in some of the dressing.
Roast 20 - 25 minutes, until some of the fingers just begin to turn brown or dark at the edges: do not burn.
(Do ahead, cool, cover and keep in fridge).
Prepare the rest of the veggies. Wash the little tomatoes, pat dry the feta cheese, wash and slice the green onions and slice and chop the cucumber. I also like to heat the nuts in a pan to crisp them, but watch out, they burn easily.
Slice the iceberg, then add the rest of the ingredients as you like.
Don't toss the salad because you don't want to break up the roasted butternut fingers.
Use roomy dessert bowls for this salad, and let everyone drizzle vinaigrette over the salad, to taste.
Have a pepper mill ready for those who want pepper.