teresas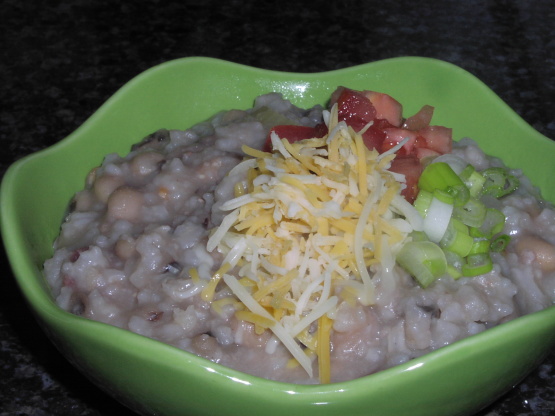 Southern cooking at its finest! Get ready to have some good luck in the New Year if you have this dish on New Years! This recipe is totally "from scratch", using dried beans and fresh ingredients. For a short cut, you could use canned or frozen black eyed peas, but try the dried peas...they don't take that long to cook once they have soaked for a while. I can make a meal of this by itself, just by adding a piece of cornbread! I hope you enjoy this as much as my family has in the past. Please note: Prep time does not include soaking time!

This is the first time the hubby and I have tried a Hopping John dish...we had such high hopes for this recipe...I even made the full amount thinking I could freeze it for later...but we both thought it lacked flavor so the hubby said lets add some hot sauce...that didn't work...plus we found it on the pasty side...it got real thick during cooking...I don't know if this is one of those dishes that you have to acquire a taste for...or that you love because you grew up with it...sorry...it just didn't work for us...but I'm glad we finally got to try a hopping john recipe...made for "For Your Consideration" tag game...
Sort and wash peas; place in a Dutch oven. Cover with water 2 inches above peas; let soak 24 hours. Drain, return to Dutch oven. Add 4 cups water and 1 teaspoon salt. Bring to a boil; cover, reduce heat, and simmer 1 hour and 30 minutes or until tender. Set aside.
Place ham hocks in a medium saucepan; add water to cover. Bring to a boil; cover, reduce heate, and simmer 40 minutes or until meat is tender. Remove from bone; coarsely chop meat. You can do this at the same time that the peas are cooking.
Add chopped meat, remaining 1 cup water, remaining 1 teaspoon salt, bacon, and next 3 ingredients to peas; stir well. Bring to a boil; cover, reduce heat, and simmer 30 minutes or until rice is tender, stirring occasionally.
To serve, spoon into individual serving bowls. Top each serving with tomato, green onions, and cheese.