Audrey's Golden Peach Butter
mengman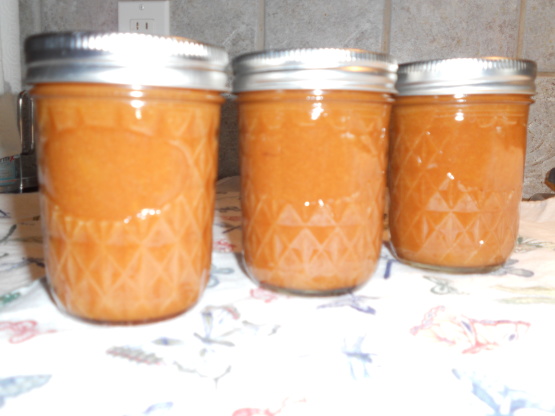 This is one of my mom's recipes she has had for years. This is a gentle spicy fruit butter that is great spread on top of hot popvers right out of the oven.

I picked this recipe as one of "My Three Chefs" for the June 2012 game. This peach butter is really good and very easy to make. Just don't put boiling hot peaches in a plastic blender and then push the lid on tight. I cracked my blender, I guess from the heat and the pressue that built up. But I got my peaches blended smooth despite the crack. The cinnamon and hint of cloves give a wonderful aroma and flavor.
In a large pan, bring the peaches and water to a boil over medium heat.
Reduce to low and simmer, stir often until tender. In a food processor fitted with a metal blade or a blender, process the mixture in batches until smooth.
Return the puree to the pan and stir in the sugar, lemon juice, lemon zest, cinnamon and cloves.
Bring to a boil over medium heat, stir constantly.
Reduce the heat to low and simmer, stir often till thick and reduced to about 6 cups. (approx 30 min).
Ladle the peach butter into hot, sterilized jars, leaving a 1/4" of headroom.
Wipe the rims clean and place lids on.
Process in boiling water bath for about 10 minutes.
Remove the jars and let cool at room temperature till completely cooled off.