Auberge Creamed Carrots With Basil and Garlic
Tisme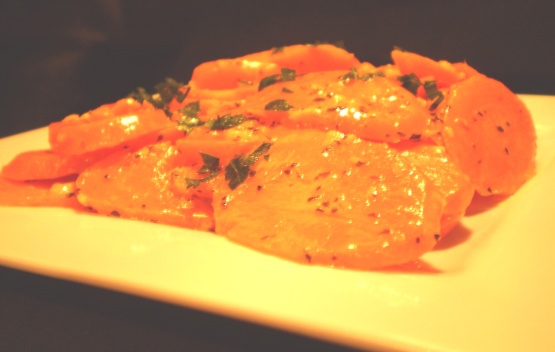 One of the most requested vegetable accompaniments that I serve in the Auberge; simple & easy to adapt to personal tastes - they are finished off in a flash before serving. If you are not fond of garlic, don't add it......the same with basil, it's just that I find the two work very well together with the sweetnes of the carrots!

Top Review by Tisme
What a great way to serve carrots! Delcious and so creamy, the garlic and basil add such wonderful flavours to the carrots. Next time I would like to use fresh basil, it was late so I didn't go out to pick any in the dark, I used dried basil instead. The family loved the carrots and I will be trying this one again with some lovely freshly picked basil! Thanks F.T.
Peel and slice the carrots on the diagnal - into about 1/2 slices.
Boil gently or steam for about 7-10 minutes, until just softening a bit.
Leave to carry on cooking in the water with the lid on until you are ready to serve - up to 15 minutes maximum.
Drain and add the creme fraiche, garlic & basil to the carrots in the pan.
Put the lid on again and gently mix around in the pan by shaking it.
Serve hot & make sure you get all the creamy herb juices out & pour them over the carrots!
You can garnish them with a bit more chopped basil OR chopped parsley if you wish.