Bergy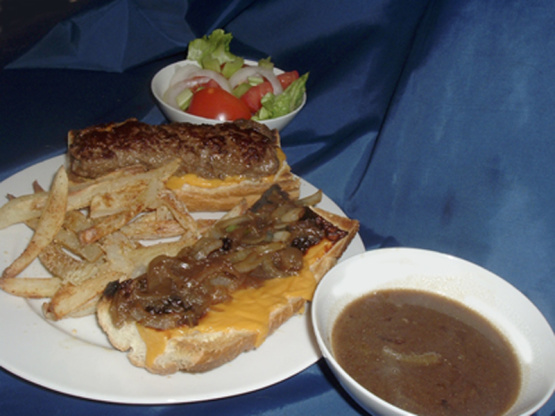 Very tasty Burger recipe served with a flavorful dipping sauce. Use whatever type bun that you like but I recommend a really crispy roll or an 8" slice of French Baguette sliced through the middle. Use the cheese of your choice. Serve with a small green/tomato side salad. I have said 4 slices of cheese and 4 rolls but you can make this recipe to serve 6 just get 2 more rolls & cheese slices. I have added 1-2 tsp Wasabi but only if you like HOT

Top Review by Kasha
A little reminiscent of meatloaf for our tastes, but this may be a plus for others. Very easy and quick to put together. I used Swiss cheese, and real French bread. DH is French, and there was a very funny kind of 'Who's on first' conversation about the dipping of the sandwiches as in French Dip, which he insists doesn't exist. Didn't use the wasabi, but would have had I found it.
Mix the beef with the worchestershire sauce, garlic, Wasabi (if using) & pepper.
Shape into 4 patties to match the shape and size of your rolls.
Cook the patties in a skillet. Have heat on high, brown one side of the patties, turn heat to medium, flip the patties, add the onion and cover the pan.
Contimue cooking until the patty is nicely browned and the onions are golden, stir the onions a few times to prevent burning while cooking.
Pour in the onion soup, turn heat to high, bring to a simmer and cook covered a further 5 minutes.
Meanwhile Toast the inside of your bun, top with cheese(I like to broil the bun so the cheese melts).
Place meat and onions on the bun.
Serve with the" Au Jus" in individual cups large enough to dip the burger.
Enjoy.