SB6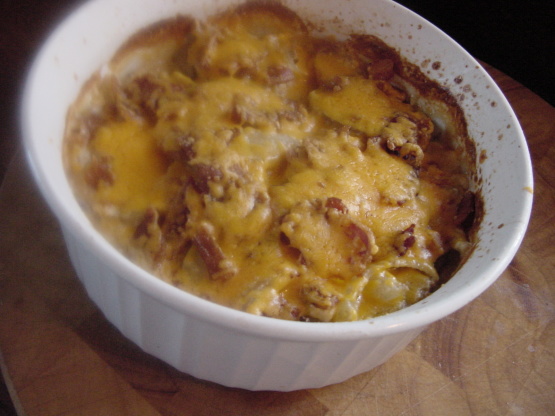 Cheesy, and simple to make, with very few ingredients. To save a step and add a bit of flavor, I prefer to leave the skins on.

Top Review by SB6
At our house we have a constant battle. DH loves baked potatoes, I like potatoes but get real sick of making them 4-5 times a week. That will change now- this was so easy & so very good. We both loved it. Made for 2010 PAC Forgot to add I did throw in some bacon because I had some crumbled already. Just made it more delicious.
6 -8

medium idaho potatoes, peeled and cut into 1/2-inch cubes

3

(5 ounce) Kraft Old English cheese spread

1

tablespoon paprika
1⁄4 cup butter, melted
peel potatos.
cut into 1/2" cubes.
place potatos in a large pot and put just enough water to cover potato's.
cook on high and boil about 10 minutes, being careful not to get them too soft.
drain potatos and rinse with cold water.
transfer into a baking dish.
gently stir in old english cheese, soften in microwave if needed.
sprinkle top with paprika.
bake at 350 for about 30-45 minutes, then place under broiler until cheese is fully melted and top is nicely browned.
just before serving and while still hot, brush with melted butter.