CoffeeB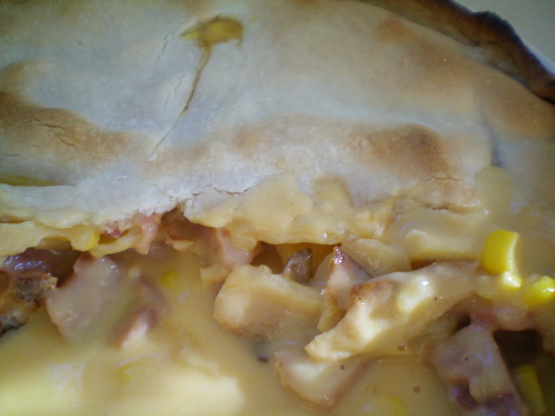 This simple and tasty potpie recipe goes together quickly. It was created by Mary Zinsmeister of Slinger, Wisconsin and published by TOH. I'd use lower-fat ingredients (turkey ham, soup, milk and sour cream) to cut calories.

Made this for supper tonight, everyone enjoyed it, left out the pimentos. Thanks, will make again.
In a large bowl, combine the potatoes, contents of sauce mix, boiling water, peas and carrots, ham, soup, mushrooms, milk, sour cream and pimientos.
Pour into an ungreased 2-qt. round baking dish.
Roll out pastry to fit top of dish; place over potato mixture.
Flute edges; cut slits in pastry.
Bake at 400° for 40-45 minutes or until golden brown.
Let stand for 5 minutes before serving.