Au Gratin Garlic Potatoes
Elmotoo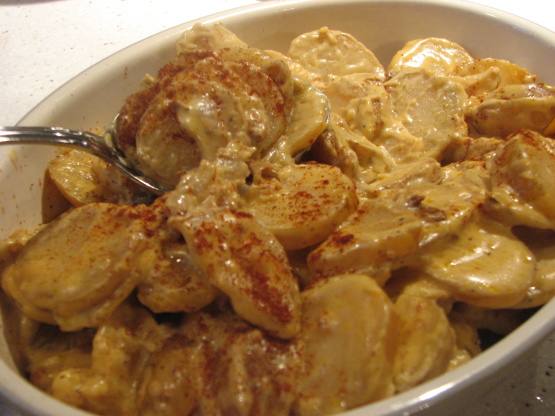 Cream cheese and a can of cheese soup turn ordinary sliced potatoes into a rich side dish that's perfect accompaniment to almost any meal.

I made this for PAC 9/06. Even DH loved these potatoes & he is a crock pot snob. I had nice new potatoes from the farmstand so I didn't peel them. I would recomend stirring every few hours, too. A simple, delicious recipe that I enjoyed for breakfast & lunch the next day as well. ;) Thanks, tazdevilfan!
In a saucepan, heat milk over medium heat until bubbles form around side of saucepan. Remove from the heat. Add the soup, cream cheese, garlic, nutmeg and pepper; stir until smooth.
Place the potatoes and onion in a 3-quart slow cooker. Pour the milk mixture over the potato mixture; mix well.
Cover and cook on low for 6-7 hours or until potatoes are tender.
Sprinkle with paprika if desired.