Au Gratin Brussels Sprouts
Parsley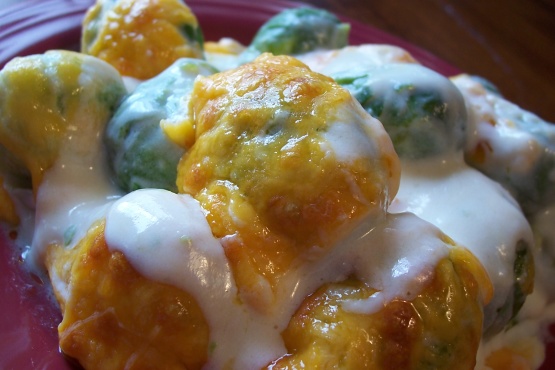 Another one of my Favorites, I found this on the internet a couple years ago on another site and I have stayed pretty true to the recipe. I have turned on quite a few to Brussels Sprouts in the proccess also.

We love brussel sprouts and this was a different way for me to make them. We enjoyed them but thought they needed a bit more seasoning. I did add a good bit of pepper but think it could have used some garlic too. I followed the recipe as written other then I cooked the whole thing on the stove.
Cook Brussels sprouts until tender in boiling salted water.
Drain well and place in shallow baking dish.
Make a thick sauce by melting the butter in a saucepan.
Add flour and salt.
Cook a minute or so.
Remove from heat and gradually stir in the milk and sour cream.
Return to heat and cook until thickened but not boiling.
Stir in Parmesan cheese and pour over the sprouts.
Sprinkle with Cheddar cheese.
Place in hot oven or broiler to melt cheese.