Asparagus, Zucchini, and Yellow Pepper Frittata
awalde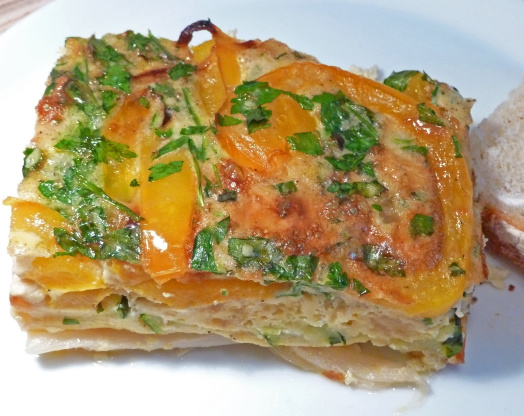 Packed full of colorful vegetables, this Asparagus, Zucchini, and Yellow Pepper Frittata is a fresh-flavored, low-cal baked egg dish perfect to serve for brunch -- or anytime of the day.

Delicious and beautiful. I made half the recipe. Unlike many fritattas, this one was not watery at all. Rich and still healthy -- how can one beat that?? It also reheated remarkably well in a very low microwave. The only thing I was uncertain about was the timing of adding the basil. I did add a couple of strips of torn up peppered bacon. Thanks for offering this; it's yummy.
Butter a 2-quart rectangular baking dish; set aside.
If using fresh asparagus, snap off and discard woody bases, scrape off scales, if desired and cut into 1-inch pieces.
In a saucepan, bring about 1 inch water to boiling.
Add asparagus, pepper strips, and onion; bring just to boiling.
Reduce heat slightly; cover and boil about 1 minute or until crisp-tender.
Drain well, reserving some asparagus tips for garnish.
Spread asparagus-pepper mixture evenly in baking dish.
Layer zucchini slices over.
Combine eggs, half-and-half, parsley, basil, salt, and pepper.
Pour over vegetables in baking dish.
Bake, uncovered, in a 350 degree F oven about 35 minutes or until a knife inserted near center comes out clean.
Let stand 10 minutes before serving.
Garnish each serving with asparagus tips, if desired.