Asparagus Wrapped in Bacon
TishT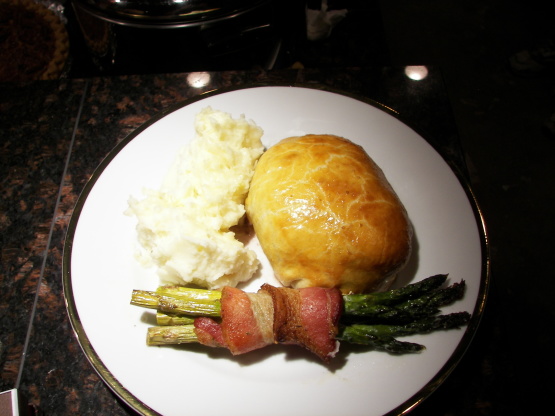 I saw this on a cooking show and have made it twice now and it is a real hit.

We love this and will use this method from now on. As Tish said, the bacon comes out nicely browned, the tips of the asparagus are slightly crispy, and the rest is tender without being mushy. Thank you for sharing this!!!
Cut 1/2 inch to 1 inch off the end of the asparagus.
The asparagus should be at least 4 to 5 inches long.
Toss the asparagus with olive oil- just enough to lightly coat and add a touch of salt and pepper (optional).
Separate into bundles (approx. 4 to each bundle) and starting at bottom of asparagus bundle, wrap with 1 slice of uncooked bacon.
Repeat with the rest.
Place on broiling pan and bake at 500 degrees for 5 minutes, turn them over and bake another 5 minutes.
Reduce oven to 350 degrees and bake for 15- 20 minutes.