jenne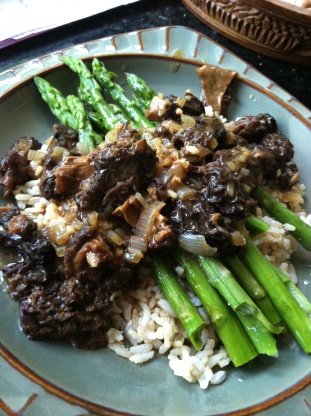 from bon appetit, a wonderful first course for springtime

We finally started getting some kosher pancetta in this country, and I've been eating the stuff straight out of the package, it's so good. I was so happy to find a recipe that combined my newest favorite food with one of my long-time favorites, asparagus (and let's not forget mushrooms). I didn't have any dried morel, so I use some Chinese-style dried mushrooms, and subbed some small onions for the shallots. This is a really classy side dish or appetizer. Now that I can get the pancetta, I'll be making it often! Thanks loads, Chia!
heat chicken broth to simmer in small pot.
remove from heat, add morels and soak for 30 minutes drain, reserving 1 c broth.
in skillet cook pancetta until crisp, remove and drain.
add some oil to skillet.
add asparagus, shallots, morels and cook about 5 minutes.
add the broth ans simmer until crisp tender, 5 minutes.
arrange arugula on plate, sprinkle with3 tbsp oil& lemon juice.
add asparagus to center of plate, top with pancetta, remaining olive oil, parsley, salt& pepper to taste.