Asparagus With Lemon Curd
Rita1652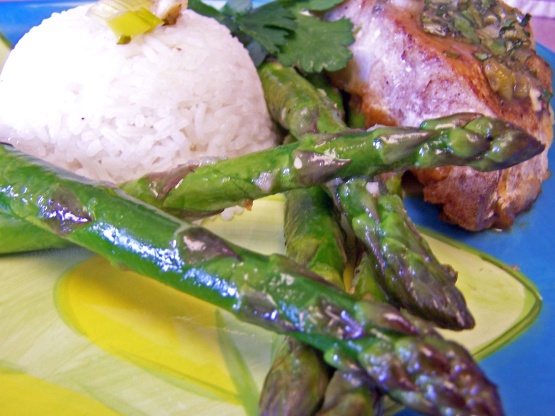 This is roasted asparagus with lemon curd garlic, ginger. This makes a great finger food (Appetizer)!
I needed a recipe for a spring potluck at work. I also wanted to take a cake for a birthday. Imagine my delight when I found that this cook had recipes for both. Her recipe for the lemon curd is the best ever. For my presentation at the potluck, I roasted the asparagus; arranged it in a serving dish; topped it with sliced of hard boiled eggs; then spooned on the lemon curd. It was a hit.
Preheat oven to 400 degrees.
Place cleaned asparagus spears in pan sprinkle with oil.
Randomly place lemon curd on asparagus.
Sprinkle garlic and ginger over the spear and season with salt and pepper.
Roast for 20 minutes, tossing half way through. Give or take depends on the thickness of the spears.
Be sure to serve with all the goodness from the pan.