Asparagus With Lemon Browned Butter Sauce
Parsley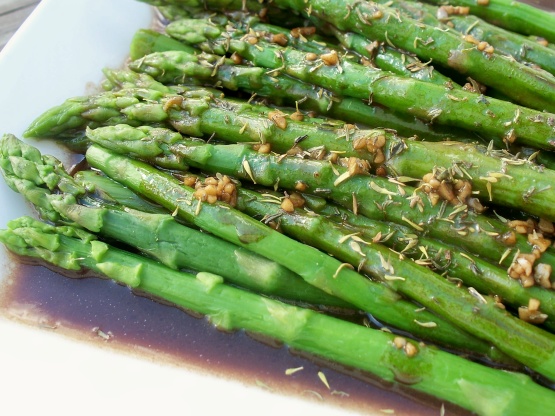 Haven't tried this yet but it's sound fabulous.

Wow! Fantastic. I approximately doubled the recipe (split the fat into 50-50 butter and olive oil), tossed steamed brussels sprouts and spaghetti with it, and this was a great hit at the dinner table. Thanks so much for sharing!
Snap off or trim ends from asparagus. Steam in a large pot of water or asparagus steamer for 3 to 5 minutes, or until crisp-tender. Drain and transfer to a medium bowl and keep warm. Melt butter in a medium skillet. cook over medium-high heat until butter just begins to brown and foam, being careful not to burn. Remove from heat and stir in garlic. Swirl pan several times, then stir in lemon juice and vinegar. Pour over hot asparagus and season with salt and pepper. Toss gently to mix. Transfer to a platter and sprinkle with thyme and lemon zest, optional.