Asparagus With Lemon and Parmesan Butter
Zurie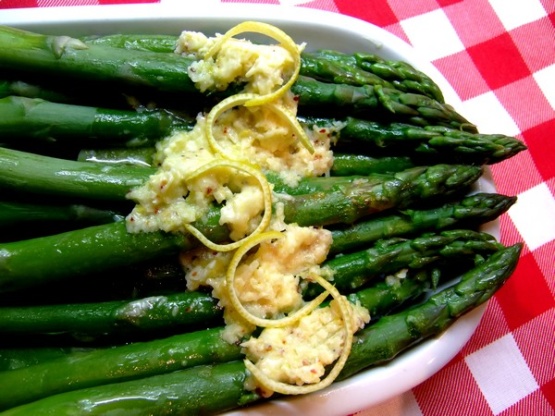 These flavours go so well together!

Such a simple and quick recipe to throw together, I will make it again but next time I will also add some lemon juice over the spears at the end before serving. It lacked a little bit of flavour.
Mix together the butter, lemon zest and grated Parmesan and season with garlic salt.
Put to one side.
Snap the asparagus 2-4 cm/¾-1½in from the base of the stalks, the spears should naturally find their own breaking point.
If the asparagus is particularly thick, trim away any tough-looking pointy ears on the stalk, as these can have a bitter taste.
Place the asparagus in a wide saucepan or large, deep frying pan of rapidly boiling salted water, cook for 2-5 minutes depending on their thickness until just tender. Remove from the water with a slotted spoon and shake off any excess water.
Place on a warm plate and sit the flavoured butter on top. Turn the asparagus so the butter is melting and oozing over every spear, then sprinkle over some sea salt.