Asparagus With Lemon and Mint
Leslie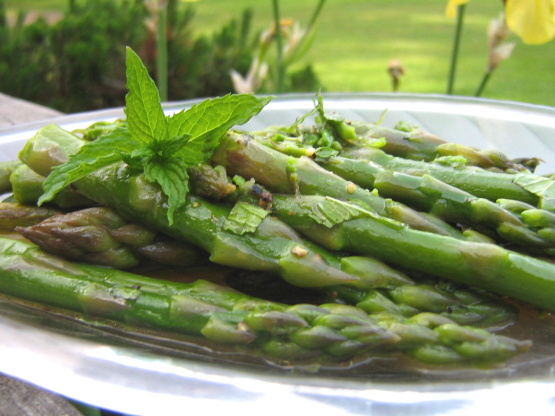 I've been saving this since 1997 from McCall's magazine. There are 9 Passover recipes in it. The menu they gave is Gefilte Fish (no recipe), Chicken Soup With Matzo Balls, Mixed Green Salad (no recipe), Stuffed Tarragon Roast Capon With Rich Pan Gravy, Matzo Walnut and Mushroom Stuffing, Roasted Tzimmes, Asparagus With Lemon and Mint, Chocolate-Almond Torte With Strawberry Sauce, and Assorted Macaroons. One of these days I may get this made but for safe keeping I'm saving it here.
In large pot of boiling salted water, cook asparagus 3 to 5 minutes, until crisp-tender. Drain in colander; dry on paper towel.
In serving bowl, combine olive oil, lemon zest, salt and pepper. Add hot aspargus. Toss mixture to bring to room temperature.
Just before serving, stir in mint and lemon juice.
Serve at room temperature.