Asparagus With Garlic Butter and Parmesan Cheese
Tisme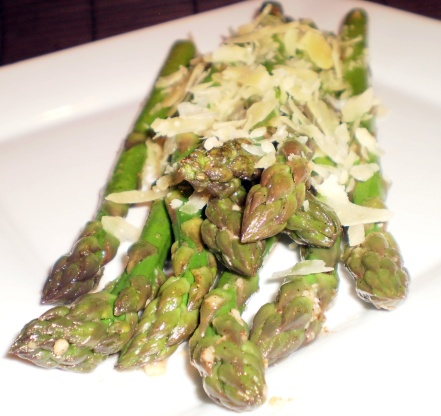 We had this simple, delicious starter in a Bali restaurant recently. I've since made it at home to rave reviews.

Top Review by Tisme
This is so quick simple and easy to make and tastes just wonderful.
You could not make this with anything else but butter, the flavour of the butter and garlic together is just so delicious.
DD and I devoured this between the 2 of us. We loved it.
Thanks so much for posting such a simple and quick dish to make with asparagus Jan, I will be making this often now.
Bring a pan of water to the boil, drop the asparagus in and cook for about 2 minutes or until just, just tender crisp. Plunge into iced water to stop them cooking, then drain.
Melt the butter in a large frying pan over medium heat, add the garlic and cook for a minute until fragrant.
Season with salt and pepper, the add the asparagus to the pan, tossing and turning gently in the butter until hot.
Divide amongst 4 plates, then sprinkle each serve with the cheese.
We liked crusty bread to mop up the rest of the garlic butter, but it's up to you!