Asparagus With Butter Lemon and Mint Drizzle
awalde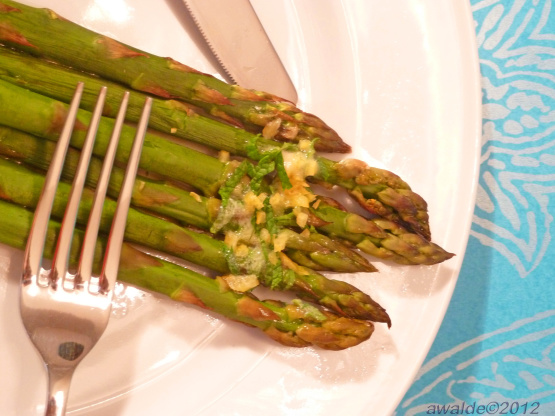 This is wonderful when that spring asparagus arrives on the supermarket shelves. I've also made this using lime with great results. This makes a light amount of the drizzle double it if you would like all of the asparagus well coated.

Top Review by awalde
This recipe had a great success in my family as it was DELICIOUS!
I had asparagus on hand and all the other ingredients and as I saw your recipe I asked my DH if he agrees to try this...with lemon and mint? Yes, will see.
The sauce resulted very creamy and the butter-lemon juice combination resulted very cream. The mint addition was the non plus ultram!
Thanks a lot for sharing this wonderful recipe; you are really a great cooker and teacher!
Simmer, steam or roast the asparagus until tender but still firm.
Use a paper towel to remove any residual water from the asparagus.
Place the butter in a microwave proof container (I use a glass measuring cup) along with the lemon juice and chopped mint.
While the asparagus is cooking warm the butter to the point where it's not quite all melted.
Remove from the microwave and stir to finish melting the butter and mix the lemon juice and mint nicely together.
Drizzle the butter mixture over the still hot asparagus.
Sprinkle the lemon zest over the top if using.