Rita1652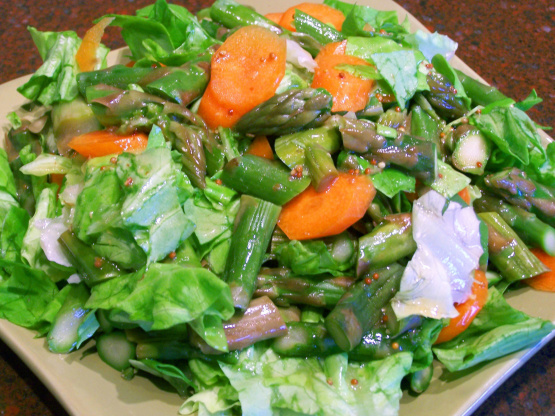 This is a light salad with a lot of flavor. The dressing makes this salad standout. I like to make it and eat for lunch, or when having a friend over. Makes quite a bit. I sometimes make the dressing and store in the refrigerator and cut ingredients in half.
In a large saucepan, bring 4 cups of water to a boil for 1 minute. Add asparagus; cover and boil 3 minutes longer. Drain and immediately place vegetables in ice water; drain and pat dry.
In a salad bowl, combine lettuce, carrots and asparagus.
In a jar with a tight-fitting lid, combine the vinaigrette ingredients; shake well. Drizzle over salad and toss to coat.
Serve immediately.