Asparagus Tomato Stir Fry
loof751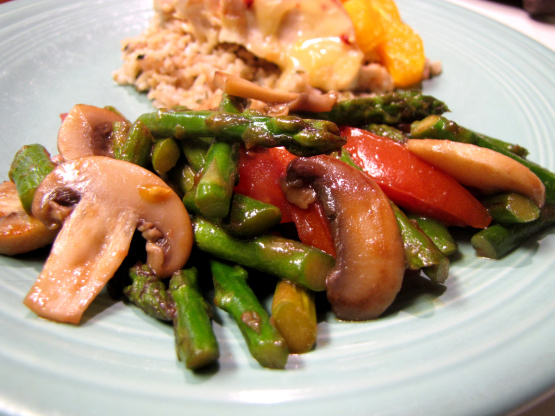 There is nothing like fresh asparagus and I am extremely spoiled because my parents grow it on their farm!

Great veggie recipe! Fresh, easy to make and tasty. There was just enough sauce to add a nice flavor without being overpowering. Served this as a side dish but I think it could stand on it's own as a meatless main dish over rice or pasta. Thanks for sharing the recipe!
Snap off and discard woody bases from asparagus. Bias slice into 1 inch pieces.
For sauce, combine chicken broth, soy sauce and cornstarch; set aside.
Preheat a wok or large skillet over high heat; add oil.
Stir fry the gingerroot in hot oil for 30 seconds.
Add asparagus and green onions; stir fry for 3 minutes.
Add mushrooms; stir fry about 1 minute more until vegetables are crisp tender.
Push vegetables from center of wok; stir sauce; add to center of wok.
Cook and stir until thickened and bubbly.
Add tomatoes; heat through.
Serve at once. Serve with rice if desired.