Sageca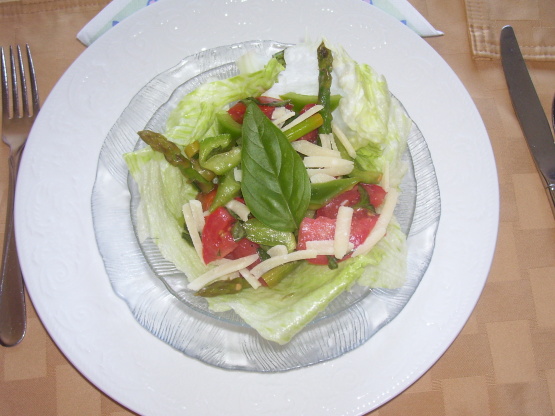 This is the type of salad that you can add whatever you want to the basic asparagus and tomatoes. Be creative--your guests will love it.

I would recommend roasting your own red peppers, the ones in the jar are too soft, and end up dropping to the bottom of the bowl. I used grape tomatoes, so the tomatoes don't end up getting mushy. We also would suggest only using half the dressing, and reserving the rest for another day.
In bowl combine asparagus, tomato, red pepper, green pepper and onions; set aside.
Make your vinaigrette by mixing together vinegar,garlic, salt and pepper. While whisking add olive oil.
Stir in basil and chives.
Drizzle over vegetables; let sit 2 hours.
Arrange lettuce leaves on serving plate.
Spoon on the salad.
Sprinkle with parmesan cheese.