Asparagus Tip & Prosciutto Puffs
Luschka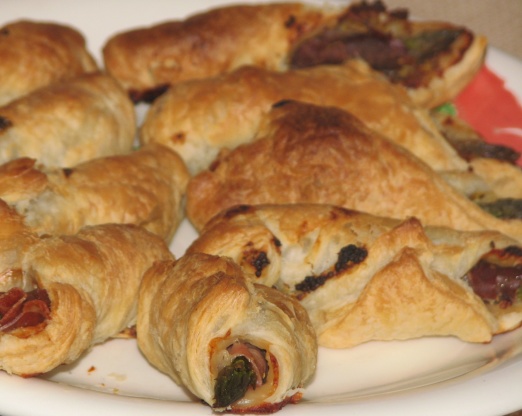 These excellant hors d'oeuvres are from Enchanted Evenings by John Hadamuscin..A family favourite...Even people who don't like asparagus ask for this recipe...enjoy Save the rest of the asparagus for soup or to mix in rice.

These were really easy and very tasty. The asparagus flavour was stronger than the prosciutto so it might be better to use a stronger meat but it was still really quick and easy and served well with other finger snacks. Reviewed for Phototag Spring 2008
Preheat oven to 425 degrees.
Wrap each Asparagus Tip with a prosciutto strip.
Set aside until needed.
Roll out puff pastry sheets on a lightly floured board.
Brush the rolled out puff pastry with the mustard.
Cut the prepared pastry into 2" squares.
Place the reserved prosciutto & asparagus tip diagonally on each square.
Roll the pastry around the asparagus,leaving the ends of the asparagus uncovered.
Moisten with water to seal.
Bake 1" apart.
Bake 15- 20 minutes- serve hot.