IngridH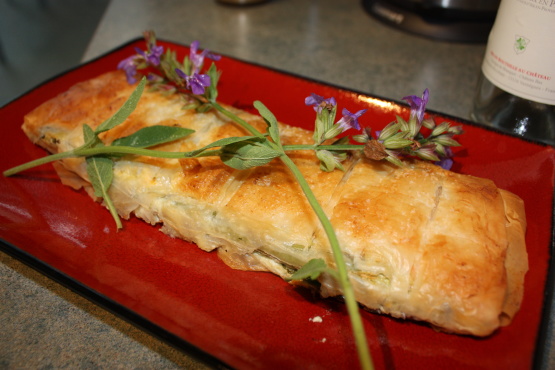 If only thick stalks of asparagus are available, peel the stalks. Blanch in boiling water for 2 minutes, drain and run under cold water until cold. If you have thin stalks, do not peel them, and blanch for only 1 minute.

This was both beautiful and tasty! I used phyllo dough, and cut the recipe in half, as there were only three of us for dinner. The combination of the goat cheese and leeks was a rich, creamy contrast to the flaky crunch of the pastry. For the asparagus, I used medium sized stalks that I microwaved for a minute instead of blanching. This would be a great dish for company, as you could prep the strudel ahead of time, and bake when you're ready for it. Made for ZWT7- Emerald City Shakers
Preheat oven to 400ºF
Heat olive oil in skillet on medium-high heat.
Add garlic and leeks and sauté until crisp-tender, about 2 minutes.
Stir in mint and orange rind, season with salt and pepper and cool.
Combine leek mixture with goat cheese.
Lay pastry on a floured surface and roll out to a 10 x 14-inch rectangle.
Place on a parchment-lined baking sheet. Divide cheese mixture in half.
Pile half of mixture along upper third of pastry lengthwise, leaving a 1-inch wide border on short sides and top.
Lay asparagus spears evenly over top of filling.
Cover with remaining cheese mixture.
Brush all inside edges of pastry with beaten egg.
Fold pastry over filling and tuck ends under.
Slash top of strudel on the diagonal every 2-inches.
Brush with egg.
Bake for 20 to 25 minutes or until golden brown.