BarbryT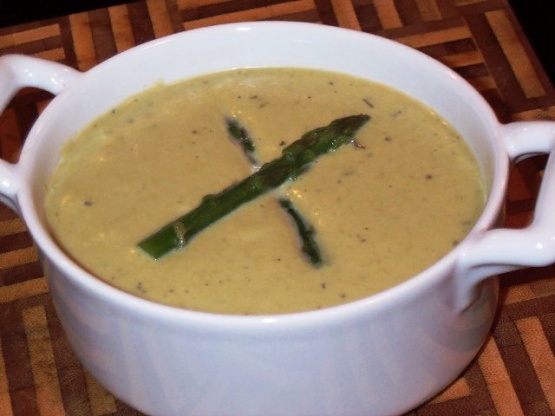 This is a quick and easy but delicious Asparagus Soup. Adapted from Quick Cooking.

I did a few changes to this soup, I sauteed 2 good heaping tablespoons of fresh garlic with the onion in some olive oil and also added in 2 teaspoons crush chili flakes for some heat, increased the basil to 1 teaspoon, we enjoyed this soup, thanks for sharing hon!...Kitten:)
In a saucepan, combine asparagus, onion, water, salt, bouillon, basil and pepper. Bring to a boil.
Reduce heat. Cover and simmer for 10-12 minutes or until vegetables are tender.
Cool for 5 minutes; stir in milk.
In a blender or food processor, process the soup in batches until smooth; return to the pan.
Stir in cream; heat through.
Garnish with croutons.