Bev I Am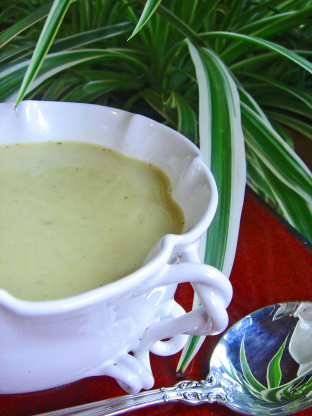 I found this recipe in a 1998 issue of Southern Living Magazine. It is quite versatile in that you could add chicken and/or mushrooms, or use vegetable broth in place of the chicken to make it to your own taste.
Peel and cube potatoes.
Chop onion and celery; mince garlic.
Melt butter in a Dutch oven; add onion, celery, and garlic, and sauté until tender.
Stir in potato, asparagus, and next 5 ingredients; bring to a boil.
Cover, reduce heat, and simmer 30 minutes; cool.
Process asparagus mixture with an immersion blender until smooth (or in batches in a blender or food processor until smooth); return mixture to Dutch oven.
Add milk, and cook, stirring often, just until soup is thoroughly heated.
Serve hot or chilled with a dollop of sour cream, if desired.
Note: If serving hot and you are a cheese lover, add in the optional shredded cheese and stir to melt and blend before serving. Serve with additional shredded cheese with optional sour cream on top to garnish.