Asparagus & Shrimp Noodles
Boomette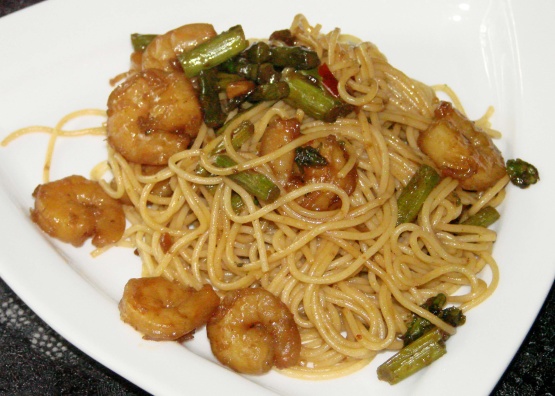 This was the result of a very poorly followed recipe. We were pleasantly surprised with the result and will be checking out local Weight Watchers groups tomorrow. The asparagus can be either fresh or frozen. I used frozen and that worked out just fine. Also, if you like more heat, increase the amount of chili paste.

Very easy and very good, a nice chilli tang but not so much that it overpowers the shrimp and asparagus! Quickly prepared, making it a great midweek supper. I didn't have the water chestnuts, so used beansprouts instead, they were very good with this dish! Thanks for a super, light meal, made for My-3-Chefs November 2008
In a wok, heat oil.
Add shrimp and stir-fry until shrimp are pink. Remove shrimp and set aside.
Add garlic and stir-fry until just beginning to color.
add chili paste, stir-fry 30 seconds.
Add asparagus. Stir-fry 3 minutes then put on lid and cook for 4-5 minutes or until asparagus is crisp-tender. Stir occasionally to keep asparagus from burning.
Add water chestnuts and cover until heated through.
Whisk together soy sauce, ginger and sugar.
Return shrimp to wok and add soy sauce mixture. Heat through.
Add cornstarch mixture to wok, stirring constantly.
Add water while stirring until sauce is a satisfactory consistency.
Add cooked pasta and mix thoroughly.
Enjoy!