Punky247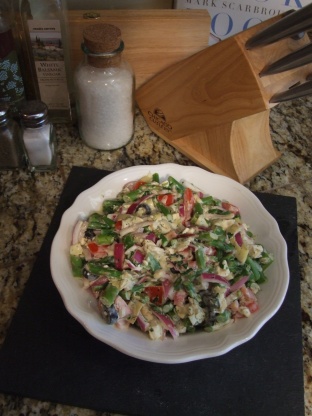 I got this recipe idea out of a magazine, then have added a few of my own things in. It's a great summer time salad!

This salad surprised me--I was hesitant to blend the odd mix of ingredients together although they're all favorite foods individually. My worries were unfounded--delightfully delicious. It's so attractive too. Best of all, this is the type recipe you can modify. You can make enough for one person or four, and then add dressing as needed. This will be added to my lunch rotation because it's easy & fast. Thanks, Punky for the nice recipe contribution.
Dressing: Mix Cilantro, Italian Parsley, Dill, Mayonnaise, Dijon Mustard, White Balsamic Vinegar & Sea Salt.
Boil Asparagus for about 4 min, then rinse with cold water and let cool.
In a large bowl mix Asparagus, Purple Onion, Artichoke Hearts, Black Olives, Tomatoes & Feta. Then add your dressing and enjoy!