Annacia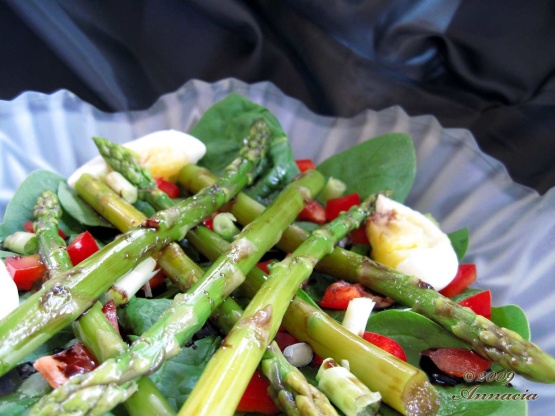 What is spring with out Asparagus? This salad is a great way to showcase one of spring's favorite vegetables.

Delicious. I didn't have roasted pepper so used fresh and the crunch of it was nice. Since I had oatmeal for brekkie and plan a vegetarian dinner I figured that I could afford a whole egg, lol. I had to use baby spinach for the bed but it all came together beautifully and made a very enjoyable lunch.
Cook fresh asparagus spears in small amount of boiling water till crisp-tender, about 10 minutes. Drain, and rinse in cold water, and drain again.
Combine the balsamic vinegar, sugar, and garlic in a small bowl.
Place asparagus in shallow dish and pour vinegar mixture over it. Cover and chill for 1 hour.
Remove asparagus, reserving the liquid. On large plate layer baby greens, asparagus, green onions, egg whites, and parsley. Drizzle with reserved vinegar mixture.