Ms B.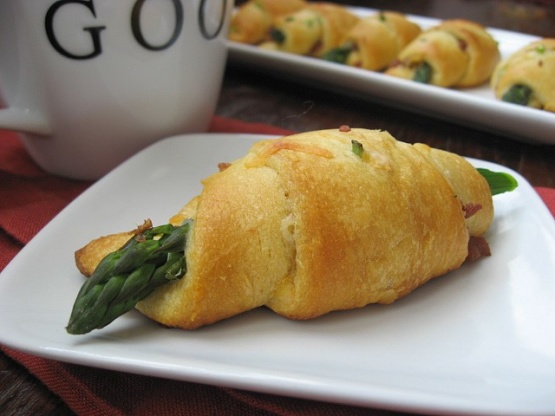 Serve with ham and eggs. Perfect side dish for easter brunch. Simple yet impressive.

Served for brunch on Mother's Day and they were a hit. I had no trouble at all using two spears of asparagus in each one. Made some with bacon and some without. Put a bacon bit on top of the ones with bacon inside to let guests know which ones had bacon. Delicious!
Preheat oven to 400*.
Break off tough ends of the asparagus leaving just the tender tips. Steam for several minutes until cooked crisp tender.
Open crescent roll dough and separate at the seams. Sprinkle some cheese, bacon bits and green onion on each roll followed by an asparagus spear.
Roll up and bake in the oven for 10 - 12 minutes or until rolls are browned.