vrvrvr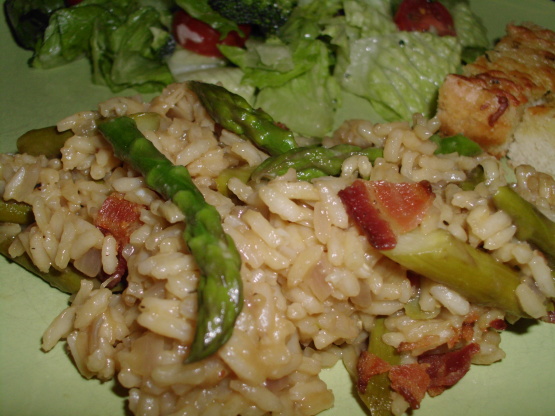 Goes well with any meat course, from Canadian Diabetes Association
Dorothy, I don't know how you do it, but this is another AWESOME recipe. The asparagus was cooked just right and the flavor was out of this world. It also looked very pretty with the bright green of the veggie and the snow white of the rice. I am not sure if I will ever be able to eat asparagus any other way. Thanks for spoiling me!!
Wash and snap off butt ends of asparagus, cut stems into 1/2 inch pieces, set tips aside.
Melt margarine in a saucepan or flame proof casserole.
Add asparagus pieces and onion, stir, cook 5 minutes until onion is transparent and soft.
Stir in rice and chicken broth, bring to a boil, cover, simmer 10 minutes.
Add asparagus tips, simmer 5 minutes longer.
Stir in 1 tablespoon parmesan cheese, and salt and pepper to taste.
Let stand, covered, 5 minutes.
Sprinkle with remaining parmesan.
Diabetic- 2 starchy and 1/2 fat choices.